Sophos Central Mobile Standard SMB 50-99 User - 12 month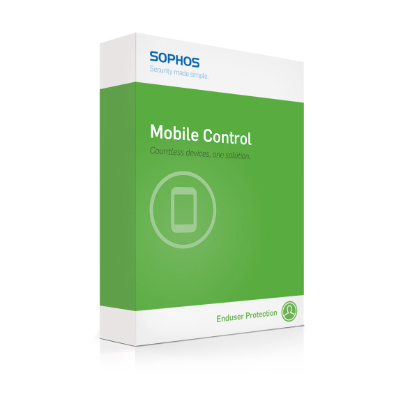 Artikel-Nr.:

CMSG1CSAA

Hersteller-Nr.:

CMSG1CSAA
Beschreibung
Beschreibung
Sophos Central: verwalten Sie alle Produkte über eine zentrale Benutzeroberfläche
Sophos Central Mobile ist eine Unified Endpoint Management (UEM)- und Sicherheitslösung, mit der Unternehmen traditionelle und mobile Endpoints einfacher und zeitsparender verwalten und schützen können. Sophos Mobile ist als einzige UEM-Lösung nativ in eine führende Next-Gen-Endpoint-Security-Plattform eingebunden und unterstützt die Verwaltung von Windows-10-, macOS-, iOS- und Android-Geräten.
Beinhaltet: Mobile Device Management (MDM), Mobile Application Management (MAM), Mobile Email Management (MEM). For BYOD and business-owned devices Android, iOS, Windows 10 Mobile and Windows 10 desktop devices. Some features are not available on all platforms. [Managed by Sophos Central]
Schonen Sie Ihre IT-Ressourcen und schützen Sie mobile Geräte so schnell wie möglich: mit Sophos Central verwalten Sie alle Sophos-Produkte in einer zentralen Admin-Oberfläche. Weitere Schutzschichten wie Endpoint-, Netzwerk- und Server-Security lassen sich schnell und einfach hinzufügen. Egal, ob Sie sich für eine in Sophos Central gehostete Bereitstellung von Sophos Mobile oder eine Installation vor Ort entscheiden - alle Features und Funktionen sind identisch.
Secure Enterprise Mobility Management
Sophos Mobile is a comprehensive EMM solution with extensive features for Mobile Device Management (MDM), Mobile Application Management (MAM), and Mobile Content Management (MCM). Manage iOS, Android, and Windows 10 Mobile devices side-by-side with Windows 10 computers to ensure a uniform company security and compliance policy. And, because everything Sophos does is about security, Sophos Mobile will keep business data, users, and devices protected and secure.
Flexible deployment options
Save IT resources and get going quickly by deploying Sophos Mobile with the hosted and web-based Sophos Central, where you can manage all Sophos products in one unified admin interface. Add further layers of endpoint, network, and server security quickly and easily. Whether you choose to deploy Sophos Mobile hosted in Sophos Central or installed on-premise, features and functionality stay the same.
Remote configuration and setup
Spend less time enabling the use of mobile devices in the company for increased productivity, and rest easier knowing that the associated risks are reduced. Configure BYOD or corporate-owned devices remotely with a powerful selection of policies, profiles, and configuration options, and install, remove, and manage apps on those devices. Reduce your help desk calls by helping your users to help themselves with the flexible self-service portal, entirely without IT involvement.
Eigenschaften
| | |
| --- | --- |
| Einheit: | User |
| Endkundenart: | STD |
| Herkunftsland: | USA |
| Lizenztyp: | New |
| Produkttyp: | Software |
Produkt
| | |
| --- | --- |
| Produktfamilie: | SMB |
| Lizenzprogramm: | SO_CL |